We serve only premium hot dogs that combine the high-quality of beef with the rich flavor of pork for an all meat taste we know you will love. We will never serve you a hot dog made with chicken, chicken-by-products or fillers and we're sure you can taste the difference.
We also offer an all beef premium hot dog for an additional cost. All of our hot dogs are gluten free and free of the Big-8 allergenic foods, including milk, eggs, fish, crustacean shellfish, tree nuts, peanuts, wheat and soybean.
Add your standard toppings or kraut for a little extra.
Housemade all beef chili and cheddar cheese sauce
Housemade all beef chili, mustard, onion
10-Pack Old Fashion hot dogs
10-Pack Old Fashion hot dogs, Quart of Macaroni & Cheese, Pint of Steakhouse Beans. Order ahead for even faster service.
Our Specialty Dogs combine flavors you're sure to love on your favorite hot dog.
Housemade cheddar cheese sauce, shredded cheddar, bbq sauce, bacon
Hot sausage chili, shredded mozzarella, housemade hot peppers in oil
Housemade all beef chili paired with our scratch kitchen mac & cheese
HAND-BREADED CHICKEN SANDWICHES
SPICY ITALIAN
Provolone + Hot Peppers, 5.99
SOUTHERN
Comeback Sauce + Dill Pickle, 5.69
TEXAN
Cheddar + Bacon + BBQ Sauce, 5.99
The same unique breading as our chicken sandwiches.
Always fresh, never frozen chicken tenders are made fresh to order and served with your choice of our house-made dipping sauces.
3-piece tenders, 4.49
Buttermilk Ranch, BBQ, Honey Dijon
WAFFLE FRIES
Regular, 2.49 Large, 3.89
CHILI + CHEESE FRIES
Housemade Chili + Cheese Sauce 4.99
LOADED FRIES
Bacon + cheddar + ranch, 4.99
STEAKHOUSE BAKED BEANS
Made fresh with tri-color beans and fresh ground chuck, 2.99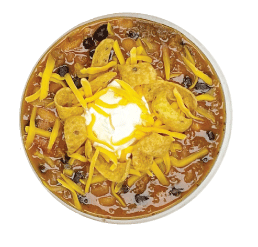 FRITO CHILI BOWL
​​​Our own blend of chili and beans topped with shredded cheddar cheese, onions and sour cream with a side of Fritos, 5.99
PARMESAN POTATO PUFFS
Our own unique recipe made fresh daily with parmesan whipped potatoes, 2.99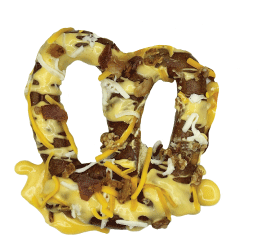 LOADED PRETZEL
Jumbo soft pretzel topped with homemade cheddar cheese sauce, shredded cheese blend and bacon, 5.99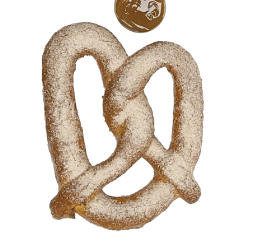 CINNAMON SUGAR PRETZEL
Jumbo soft pretzel dipped in cinnamon sugar, served with a side of caramel sauce for dipping, 3.99
SCRATCH KITCHEN MAC & CHEESE
STRAWBERRY PRETZEL PARFAIT

With our own toasted pretzel candy, 3.29
BUBBLE DRINKS

Lemonade or Iced Tea, 4.29
SLUSHIES

Blue Raspberry or Cherry, 3.29
Pepsi
Diet Pepsi
Orange Crush
Mug Rootbeer
Sierra Mist
Tropicana Lemonade
Brisk Unsweetened Iced Tea
/